FIR (Far Infrared Ray) Water Filter
FIR beads can be used in water filter system to help soften hard water, eliminate offensive odors and prevent bacterial growth. As FIR resonance with water, it 'activates' water molecules, making the water taste fresh and sweeter. It is most obvious when you make tea or coffee with FIR water.
FIR beads can also be used as rosary, prayer beads, bracelet, necklace etc. Far Infrared Ray is known to help improve body blood circulation, relief pain, reduce joint stiffness, just to name a few of its many benefits.
Far Infrared Features
Design Features
Easy to Install
Low in cost
Remove chloride in water
Converts normal tap water to alkalized water, from pH6.5 to pH7.5
Reduce odor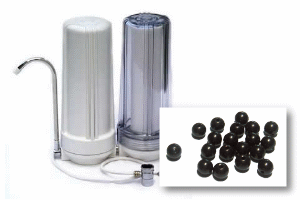 Design / Installation Instruction
1. Place strainer into cylindrical water filter.
2. Pure far infrared particles/beads into the strainer
3. Close the lid firmly.
---
You might also be interested in: