MH & SS Type PTC Air Heater - Frames and Accessories
Features
Designed for MH and SS type PTC air heaters. You can save your budgets on new housings by using our PTC Heater Fan Housings together with our PTC air heaters. Offers a Complete One-Stop Solution to safe your time and budget!
Extremely easy to install and operate
High temperature resistive PPS frames
Especially designed for MH and SS types
Can be assembled with fans
Protective shields, thermostat, safety fuse, terminal sets are also available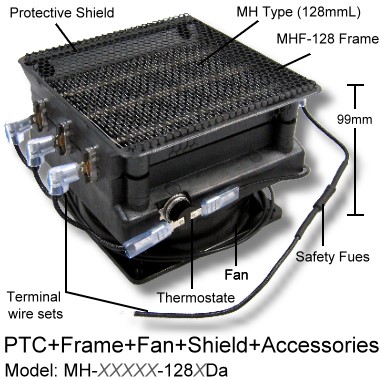 Frame and Fan Specifications
PPS Frame Models
MHF-128
MHF-106
MHF-93
Frame Dimension
137mm(L) x 135mm(W) x 60mm(H)
Frame Color
Black
Frame Material
PPS plastic
Suitable for models
L x W xT (mm)

MH Type
128(L)x 90(W)x 26(T)
MH Type
106(L)x 90(W)x 26(T)
MH Type
93(L)x 90(W)x 26(T)
SS Type
96(L)x 88.5(W)x 15(T)
Fan Dimension
120mm(L) x 120mm(W) x 38mm(H)
Housing with Fan Dimension
137mm(L) x 135mm(W) x 96mm(H)
Other Accessories
Below is a list of accessories that are also available for purchase.
Protective Shield

Thermostat

Terminal Sets
Terminal + Safety Fuse Set

Fixing Screws (if pre-assembled)

Other Related Links